Upcoming Productions - ANNIE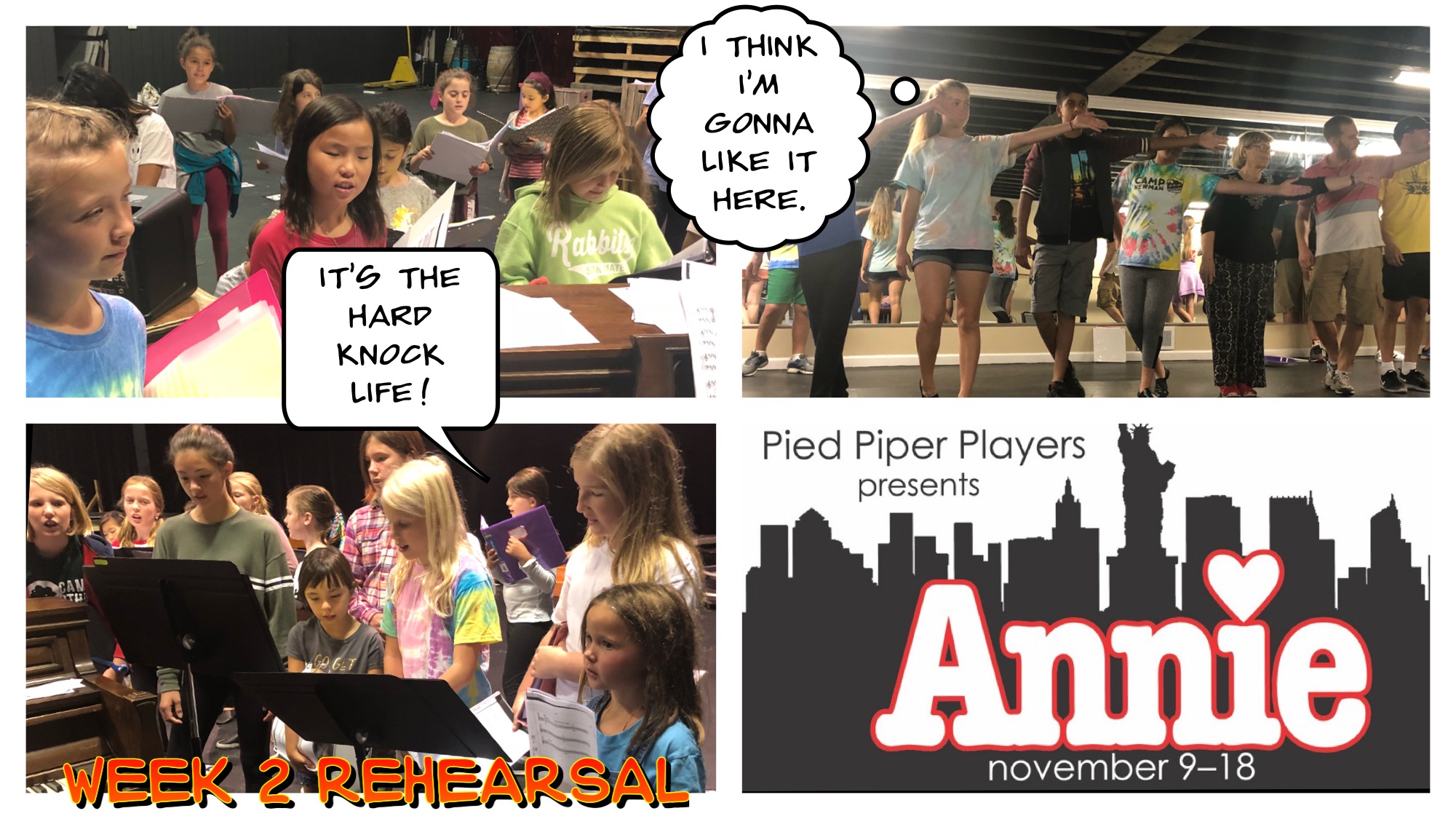 ANNIE
November 9–18, 2018
PERFORMANCES
Friday, Nov. 9, 7pm
Saturday, Nov. 10, 7pm
Sunday, Nov. 11, 2pm—Special TalkBack
Friday, Nov. 16, 7pm—Special BarkBack, PET APPRECIATION and FAMILY NIGHT
Saturday Nov. 17, 2pm
Sunday Nov. 18, 2pm
Pied Piper Players, San Mateo's award-winning theater group, is proud to present one of the most-loved musicals of all time, ANNIE, November 9-18. Join us as we watch Little Orphan Annie find the true meaning of family as she leaves her fellow orphans to spend the holidays with billionaire Oliver Warbucks.
With equal measures of pluck and positivity Annie charms everyone's heart despite a next-to-nothing start in 1930s New York City. Based on the beloved book and score by Tony Award Winners, Thomas Meehan, Charles Strouse and Martin Charnin, theater-goers of all ages will enjoy these entertaining characters and unforgettable music including "Tomorrow," "Hard-Knock Life," "Easy Street" and "NYC."
Tickets are $24 for Adults and $18 for seniors and students. All tickets for the Friday, November 16th performance are $16 in honor of our FAMILY & PET APPRICIATION Night. Tickets can be purchased online or at the door (if still available) 1 hour before showtime.

All performances at Bayside Performing Arts Center, 2025 Kehoe Road in San Mateo.
CAST LIST
Molly – Vivian Williams
Pepper – Hailey Frazer
Duffy – Anna Richardson
July – Rosemary Conant
Tessie – Leia McAlister-Young
Kate – Ruby Gemmer
Annie – Sophia Dugoni
Orphan Ensemble
Kate Amdursky, Reese Bardsley, Zoe Brenner, Bella Brosnan, Winnie Cheston, Catriona Chu, Maddie Couch, Amelia Draffen, Emma Dugoni, Siena Feinberg, Scarlett Gemmer, Abigail Goldman, Shaila Gonzalez, Marcela Hernandez, Lucy Karr, Alexandra Kiang, Piper Kleinhenz, Chiara Luey, Elsa Lund, Juliana Lund, Genevieve Mahoney, Mylie Malden, Addison Matulich, Jordyn Nawrocki, Samantha Resser, Siena Roth, Peyton Sanchez, Evie Scott, Tahlia Shanani, Mimi Shaywitz, Madelyn Simon, Andie Viner, Sula Werner, Lilah Zander
Miss Hannigan – Leslie Allyn
Mr. Bundles – Jeff Goldman
Apple Annie – Yness Riedel
Dog Catcher – Drew Stannard-Stockton
Assistant Dog Catcher – Dominic Flores
Sandy – Penny
Stray Dogs – Bella & Riley
Officer Ward – Greg Frazer
Jack – Oscar Bill
Joe – Gabby McIlwain
Eddie – Matt Malden
Alice – Alana Bonilla
Gene – Nicholas Koomey
Mary – Malia Malden
Darla – Josephine Fontana
Earl – Alex Pavate
Teddie – Rick Lund
Sophie – Samantha Benitez
"Herbert Hoover" – Callum Karr
Hooverville Ensemble
Zoe Casassamina, Eleanor Draffen, Dani Drobot, Jeff Goldman, Angelica Flores, Jane Hipps, Julia Krysov, Sophia Pavate, Malia Pollock, Seth Tobin, Murlene Watkins
Hooverville Featured Singers
Oscar Bill, Jane Hipps, Gabby McIlwain, Josephine Fontana, Alex Pavate
Grace Farrell – Susan Melanson
Drake – Rick Lund
Mrs. Greer – Zoe Casamassina
Mrs. Pugh – Murlene Watkins
Cecille – Josephine Fontana
Annette – Malia Malden
Chauffeur – Alex Pavate
Servant Ensemble
Oscar Bill, Samantha Benitez, Alana Bonilla, Fiona Casamassina, Eleanor Draffen, Dani Drobot, Angelica Flores, Dominic Flores, Jeff Goldman, Jane Hipps, Callum Karr, Katya Kleinhenz, Nicholas Koomey, Julia Krysov, Matt Malden, Gabby McIlwain, Seth Tobin, Catherine Parker, Sophia Pavate, Malia Pollock, Yness Riedel, Drew Stannard-Stockton
Oliver Warbucks – William Wood
Taxi Driver – Oscar Bill
Pedestrian – Drew Stannard-Stockton
Star-To-Be – Nicholas Koomey
Angry New Yorker – Greg Frazer
Usherette – Jane Hipps
Mayor – Seth Tobin
Secret Service Operatives – Jeff Goldman, Rick Lund
Babysitter – Malia Pollock
Run-away – Madelyn Simon
NYC Boy – Henry Gemmer
Movie Goers
Patty – Siena Feinberg
Sally – Mimi Shaywitz
Lucy – Lilah Zander
Liza – Abigail Goldman
Judy – Shaila Gonzalez
Broadway Show Goers:
Ginger – Andie Viner
Shirley – Chiara Luey
NYC Rockettes
Alana Bonilla, Winnie Cheston, Jane Hipps, Josephine Fontana, Alexandra Kiang, Julia Krysov, Malia Malden, Mylie Malden, Addison Matulich, Jordyn Nawrocki, Catherine Parker, Malia Pollock
NYC Featured Dancers
Fiona Casamassina, Eleanor Draffen, Dani Drobot, Dominic Flores, Callum Karr, Katya Kleinhenz, Gabby McIlwain, Alex Pavate, Sophia Pavate, Samantha Resser
NYC Featured Singers
Reese Bardsley, Bella Brosnan, Emma Dugoni, Angelica Flores, Dominic Flores, Mylie Malden, Samantha Resser
NYC Ensemble
Kate Amdursky, Samantha Benitez, Zoe Brenner, Zoe Casassamina, Catriona Chu, Maddie Couch, Amelia Draffen, Henry Gemmer, Scarlett Gemmer, Marcela Hernandez, Lucy Karr, Piper Kleinhenz, Elsa Lund, Juliana Lund, Genevieve Mahoney, Matt Malden, Harry Olson III, Yness Reidel, Siena Roth, Evie Scott, Peyton Sanchez, Tahlia Shahani, Sula Werner, Murlene Watkins
Rooster Hannigan – Catcher Sanchez
Lily St Regis – Olivia Cotton
Bert Healy – Jeff Goldman
Sound Effects Men – Dominic Flores, Seth Tobin
Producer – Harry Olson III
Jimmy Johnson – Alex Pavate
Fred McCraken – Drew Stannard-Stockton
Wacky – Callum Karr
Ronnie Boylan – Winnie Cheston
Bonnie Boylan – Jordyn Nawrocki
Connie Boylan – Katya Kleinhenz
Lonnie Boylan – Fiona Casamassina
Donnie Boylan – Cat Parker
Never Fully Dressed Tap Dancers
Bella Brosnan, Winnie Cheston, Hailey Frazer, Chiara Luey, Jordyn Nawrocki, Andie Viner
Clowning Orphans
Kate Amdursky, Amelia Draffen, Scarlett Gemmer, Abigail Goldman, Shaila Gonzalez,
Juliana Lund, Tahlia Shanani, Mimi Shaywitz, Madelyn Simon
Franklin Delano Roosevelt – Greg Frazer
Cordell Hull – Rick Lund
Henry Morganthau, Jr – Matt Malden
Frances Perkins – Josie Fontana
Cabinet Members
Oscar Bill, Todd Gemmer, Melissa Koomey, Alex Pavate, Marialena Roussere, Seth Tobin
Justice Brandeis – Matt Malden
New Deal for Christmas Featured Singers Madelyn Simon, Lilah Zander