MainStage Musicals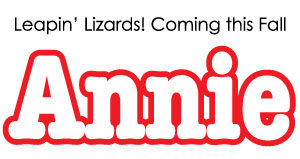 ANNIE
November 9–18, 2018
DOG AUDITIONS ON SEPTEMBER 9
See more details below…

KEY ANNIE INFO:
Vocal/Monologue Auditions:
Prepare to sing 8–12 bars of a song from a musical (not a "pop" song, nor a song from Annie). Bring sheet music taped flat together so accompanist does not need to turn any pages; preferably in a key with few sharps and flats.
Memorize an approx. 2 minute monologue. Preferably in the spirit of the character one is auditioning for—if auditioning for a certain part.
Dance Audition:
Dress comfortably, allowing for active movement.
IMPORTANT DATES:
August 25 Dance Auditions. 10–11:30am OR 1–2:30 pm. Sign up for one session only.
August 25–28 Vocal Auditions. Sign up for a 10–minute slot.
August 29–30 Callbacks. 6–9pm
Rehearsals: Wednesdays and Thursdays (6–9pm), Saturdays 10am–5pm, Sundays 1–6pm
September 5: First Principals Rehearsal
September 8: First All Cast Rehearsal
September 9: Sandy Auditions at Peninsula Humane Society
September 22: Community Work Day #1. Choose a shift from 10am–2pm OR 1–5pm.
October 7: Community Work Day #2. 1–6pm.
October 20: Community Work Day#3. Choose a shift from 10am–2pm OR 1–5pm.
October 21: No More Conflicts Allowed.
Nov 3: Nitty Gritty Day. Choose a shift from 10am–2pm OR 1–5pm.
Nov 4: Load In
Nov 4-8: Tech Week
Performances:
Friday, Nov 9, 7pm
Saturday, Nov 10, 7pm (note: evening show)
Sunday, Nov 11, 2pm with TalkBack
Thursday, Nov 15, 10am School Show
Friday, Nov 16 7pm
Saturday Nov 17, 2pm—Cast Party follows
Sunday Nov 18, 2pm–Strike follows
DOG AUDITIONS
Sunday, September 9
from 10am–12pm
Peninsula Humane Society and SPCA
1450 Rollings Road in Burlingame
$10 audition entry fee (all proceeds to benefit Peninsula Humane Society and SPCA shelter animals).
Download Dog Audition form. 
Requirements:
Dog must enjoy being around people, especially young children and is not afraid of noise.
Be well-behaved, house-broken and able to take basic commands.
Does not need to do any special stunts, but if they know any, we may showcase them.
All breeds, sizes, ages considered. Prefer dogs with some sandy-color on them.
Owner and dog must attend all 7 shows (Nov 9-18, 2018), 4 nights of tech week (November 5-8), a few rehearsals at mutually agreed upon time and be available for a Photoshoot. Show dates are:
Friday, Nov 9, 7:00pm
Saturday, Nov 10, 7:00pm (cast photo at 5:45pm)
Sunday, Nov 11, 2:00pm. Talkback after the show
Thursday, Nov 15, School Show at 10:00am
Friday, Nov 16, 7:00pm
Saturday, Nov 17, 2:00pm
Sunday, Nov 18, 2:00pm
The dog chosen to play Sandy will receive:
Headshot and bio in the show lobby
Cast t-shirt
Invitation to the cast party
"Opening Night Doggy Spa  Treatment" courtesy of Oh My Dog! in Foster City.
Questions, contact administration@piedpiperplayers.org