SHREK the Musical
Book and Lyrics by DAVID LINDSAY-ABAIRE  |  Music by JEANINE TESOR
The greatest fairy tale never told comes to life in Shrek the Musical, the award-winning Broadway musical adventure based on the Oscar-winning DreamWorks Animation Motion Picture and the book by William Steig.
A reclusive ogre finds himself on a life-changing journey alongside a wisecracking donkey and a feisty princess. Throw in a short-tempered wannabe king, a cookie with an attitude, and over a dozen other classic fairy tale misfits, and you've got the makings of a delightfully dysfunctional road trip. Featuring elaborate sets, high-energy dance numbers, plenty of laughs, and a cast of more than 50 talented Bay Area performers, Shrek the Musical is ogre-sized fun for the whole family!
Seats are sold in 2 and 4-person blocks to allow for distancing between patrons. Masks are required to be worn at all times in the theater regardless of vaccination status.
PERFORMANCES
March 11  7:00pm
March 12  7:00pm
March 13  2:00pm
March 18  7:00pm
March 19  2:00pm
March 20  2:00pm
RUNNING TIME
Approx. 2 hours, including 15-minute intermission
TICKET PRICES
Adult (18+): $28
Senior (65+): $25
Child (under 18): $25
THEATER
Bayside Performing Arts Center
2025 Kehoe Road
San Mateo, CA 94403
AGES
All Ages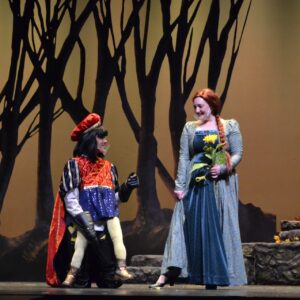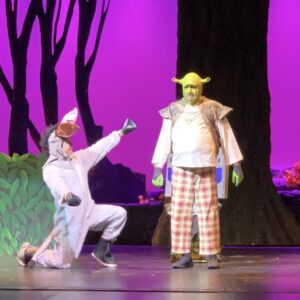 RAFFLE PRIZES
Raffle tickets are available when you purchase your tickets online. Don't miss your chance to win one of more than 35 prizes including 2 tickets to a Warriors game (right behind the announcers), gift certificates to incredible local restaurants, a 3-month family pass to the Bay Club in Redwood Shores, a Pier 39 Fun Pack and more.
PREFERRED PARKING
Enjoy a guaranteed short walk to the theater entrance with preferred parking. Preferred Parking Add-on is available when you purchase your tickets online. Limited availability.
TALKBACK SESSION
Join us after the show on Sunday, March 13 for a special "TalkBack" session with Director Leslie Stupple and the performers of Shrek.
TEMPORARY REFUND POLICY
Pied Piper Players has instituted a temporary COVID-19 exchange/refund policy. Pied Piper Players will permit you to exchange your tickets for the same Event at a later date; or if such exchange is not possible or not practical, refund your ticket purchase if:
•  You or someone in your party has tested positive for COVID-19 during the 14-day period preceding the Event;
•  You or someone in your party is not feeling well during the 14-day period preceding the Event and has exhibited symptoms consistent with COVID-19; or
•  You otherwise feel that you represent a significant transmission risk, e.g., you are caring for someone that has COVID-19 or is not feeling well.

Any such exchange request must be made by contacting the Box Office by phone (650) 992-7433 or email tickets@piedpiperplayers.org at least twenty-four (24) hours prior to the advertised performance time.